Por las últimas semanas que ha sido Ethereum. La segunda criptomoneda más grande aumentó aproximadamente un 50% solo en los últimos 10 días, y los toros finalmente se inundaron para comprar ETH después de un fuerte mercado macro bajista.
El activo cotiza a $ 382 a partir de la redacción de este artículo, volviéndose efectivamente parabólico en una escala macro. Solo en las últimas 24 horas, Ethereum ha ganado un 10% frente al dólar estadounidense, superando a Bitcoin, que solo ha aumentado un 4%.
Chart of ETH's price action over the past two weeks from TradingView.com
Un evento de liquidación de $ 2.5 millones
Este último aumento ha tenido un gran impacto en el mercado de derivados de criptomonedas.
De acuerdo con Skew.com – un rastreador de derivados criptográficos – más de $ 2.5 millones en cortos de Ethereum en BitMEX – se ha liquidado solo en la última hora. Este es el mayor evento de liquidación por hora en muchos días, a pesar de la recuperación de ETH hasta ahora en el lapso de solo dos semanas.
Millones más de posiciones cortas se liquidaron en otras plataformas de margen como ByBit y Binance, aunque los datos de esos sitios no están disponibles activamente.
Los analistas están tratando de postular lo que viene después para ETH a medida que continúa presionando al alza sin falta, liquidando millones de dólares en posiciones presentadas por los osos Ethereum.
¿Qué sigue para Ethereum?
Ethereum tiene espacio para recuperarse después de superar las resistencias en el rango de $ 320-360, dicen muchos analistas.
Un operador, que convocó a gran parte del rally en las últimas dos semanas, publicó este gráfico cuando Ethereum estalló más temprano hoy. Muestra que el activo ha escalado más allá de una resistencia fundamental, abriendo el piso a una recuperación de más del 100% hacia $ 800 a largo plazo.
Chart of ETH's macro price action by trader "Byzantine General" (@Byzgeneral on Twitter). Chart from TradingView.com
Otro analista fue más conservador, compartió el cuadro a continuación cuando ETH superó los $ 370.
La tabla sugiere que $ 420 podría ser un punto en el que el rally se detiene debido a su importancia histórica para Ethereum. Sin embargo, es importante tener en cuenta que este análisis también sugiere que Ethereum puede tener margen para recuperarse hacia $ 615, luego a $ 872.
"Estos son mis objetivos, por favor, deja de criticarme por ellos. Este es un cambio para mí, tengo mi posición bloqueada desde principios de los años 300. Voy a aumentar las paradas en cada objetivo, con ganancias solo para comprar más zapatillas ".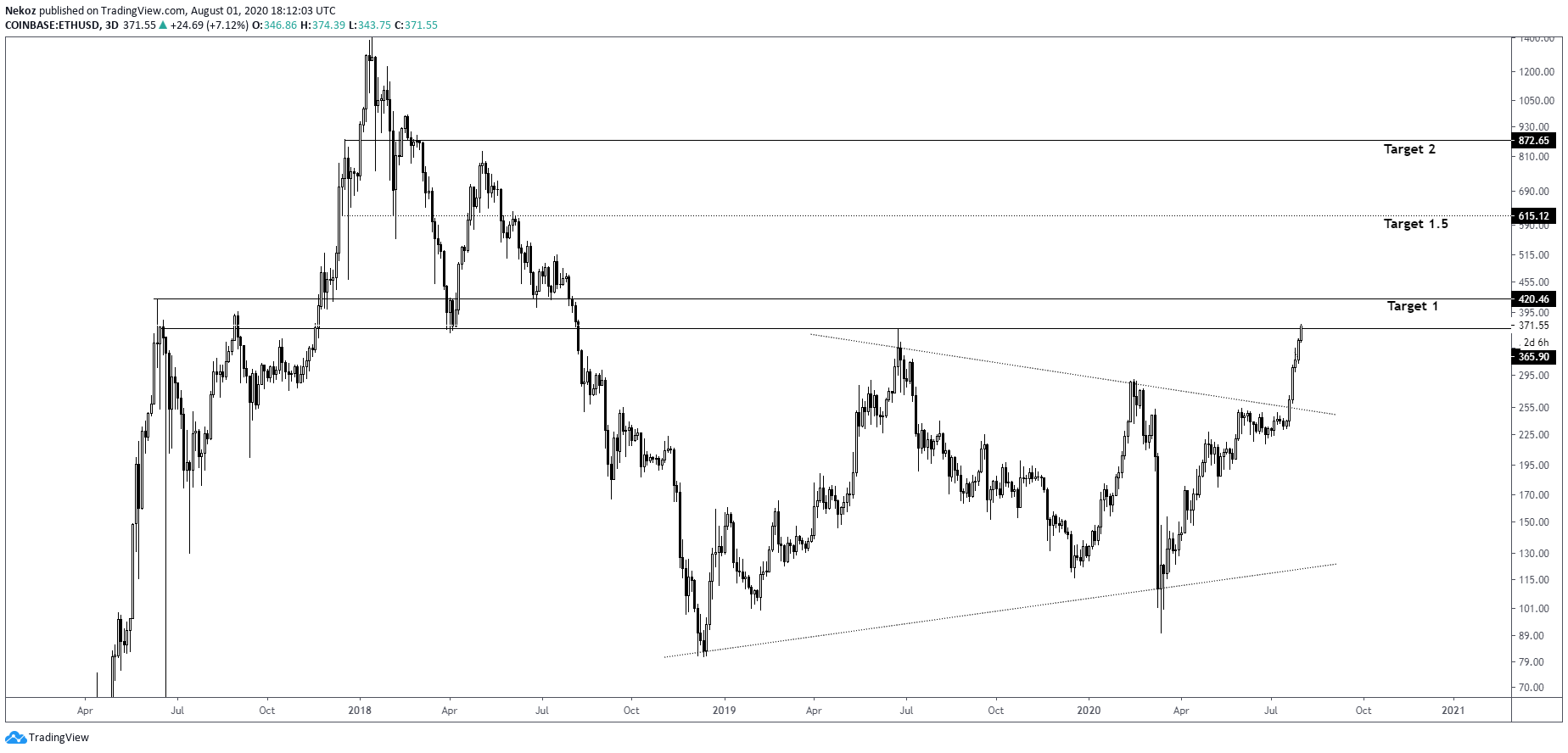 Chart of ETH's macro price action by trader "Nekoz" (@Cryptonekoz on Twitter). Chart from TradingView.com
Featured Image from Shutterstock
Price tags: ethusd, ethbtc 
Charts from TradingView.com
Ethereum Rockets to $380 to Post 10% One-Day Surge: What's Next For ETH?
Source link