Bitcoin ha visto otro movimiento explosivo en las últimas 24 horas. Al momento de escribir este artículo, la criptomoneda líder ha presionado más alto a $ 11,800 por primera vez en aproximadamente un año.
Esto significa que en la semana, BTC ha ganado alrededor del 20%. Y en el último día solo, Bitcoin ha ganado un 4%, el mejor desempeño de un día desde el repunte de $ 10,000 a $ 11,500 el lunes.
El último tramo más alto de Bitcoin ha estado marcado por una afluencia de liquidaciones de plataformas de margen de criptomonedas. De acuerdo con Skew.com, un portal de derivados criptográficos, solo en el pasado se han liquidado más de $ 5.3 millones en cortos de BitMEX. Esto se suma a las docenas de millones más que se han liquidado en las últimas 72 horas a medida que BTC se disparó más.
Aunque algunos esperan que BTC obtenga $ 12,000 en las próximas horas, un analista ha notado que Bitcoin ha formado una señal bajista de libros de texto. Pero eso no quiere decir que se someterá a una corrección.
Bitcoin Forms Textbook Reversal Signal
La acción del precio de Bitcoin durante el último día ha sido impresionante, pero algunos indicadores técnicos sugieren que los operadores aún deben ser cautelosos. Un comerciante de criptomonedas compartido el cuadro a continuación minutos después de que BTC alcanzó los $ 11,800, escribiendo:
"El doble de 9 en el #bitcoin de 6 horas aún temprano en la vela, podría configurarse como perfeccionado al cierre".
El operador hace referencia a cómo el Tom Demark Sequential (TD Sequential), un indicador técnico que predice los puntos de inflexión en la tendencia de un activo, imprimió una vela potencial de reversión en los máximos recientes.
El TD Sequential forma velas "9" o "13" cuando un activo está probablemente en un punto de inflexión. En el caso de Bitcoin, según el cuadro a continuación, se espera una corrección.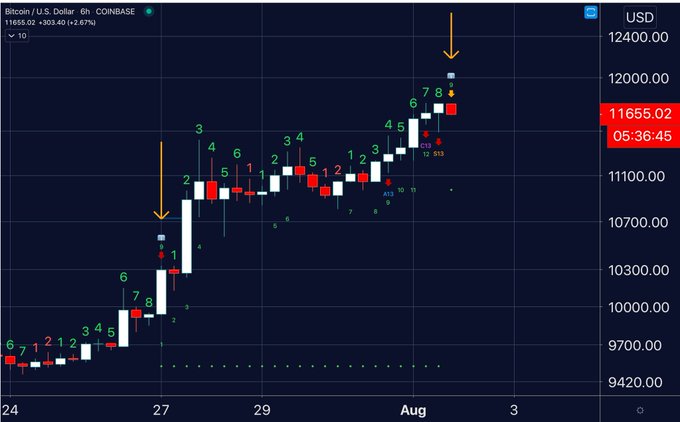 Chart of BTC's price action with TD Sequential overlay by trader "Big Chonis" (@BigChonis on Twitter). Chart from TradingView.com
Mientras que TD Sequential está imprimiendo una señal de una posible inversión, la última vez que formó un "9" en el gráfico de seis horas, BTC solo corrigió una vela, cayendo alrededor del 1.5%. Como se puede ver en el cuadro anterior, esto sucedió el 27 de julio.
Este precedente histórico puede sugerir que los toros BTC pueden ignorar la señal de reversión potencial.
La mayoría de los indicadores siguen siendo alcistas
Corroborando la expectativa de que Bitcoin ignorará el TD Secuencial "9", otros indicadores y analistas siguen siendo optimistas sobre las perspectivas a corto plazo de BTC.
Un comerciante comentó que mientras Bitcoin tiene más de $ 11,500, el activo está preparado para ver mayores ganancias en las próximas semanas:
"Faltan pocas horas para un cierre mensual masivo. Pocos días para cerrar el semanal por encima de 11.5k Yo personalmente no tendría ningún problema con la mazorca de maíz rondando entre 10k y 11.5k si eso es lo que se necesita para un crecimiento sostenible para ATH ".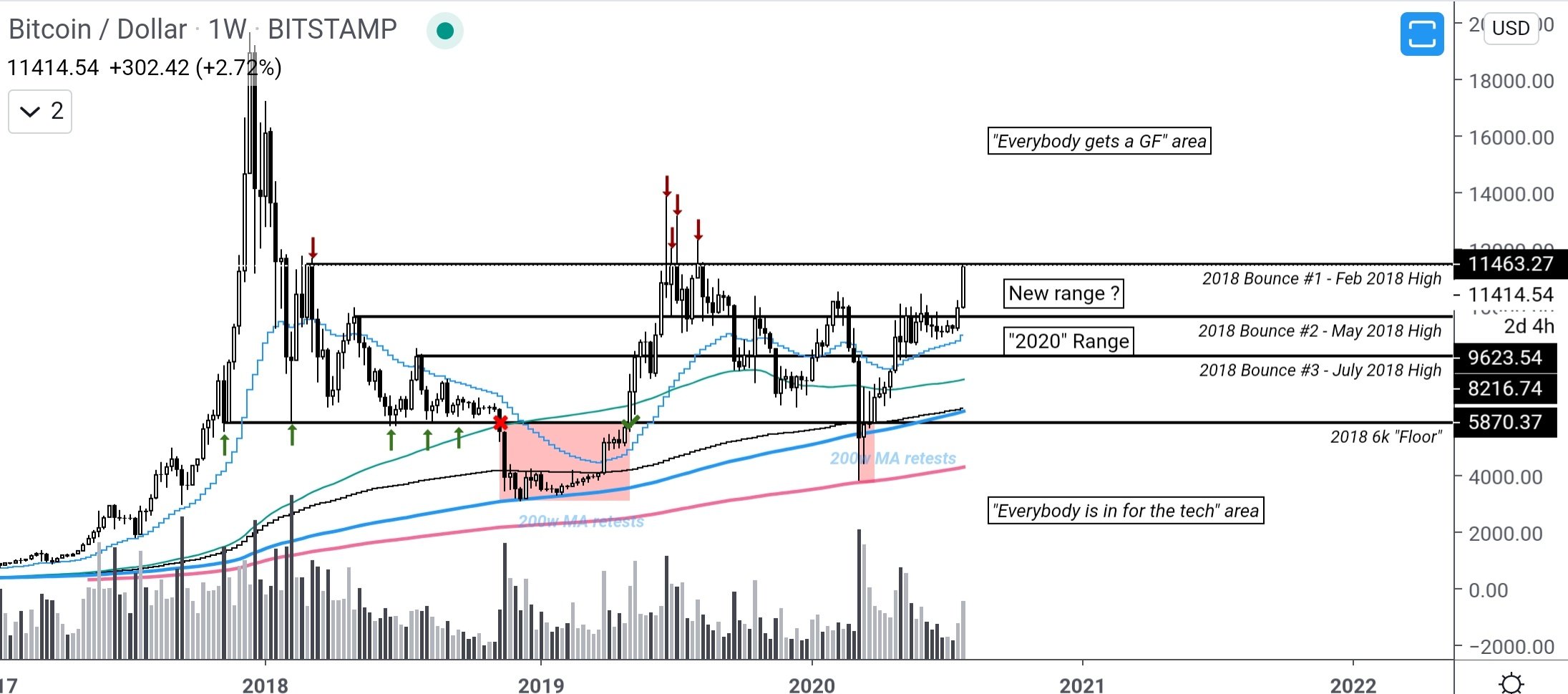 Chart of BTC's macro price action from trader Pierre (@Pierre_crypt0 on Twitter). Chart from Tradingview.com
Con las tasas de financiación aún relativamente bajas también, BTC parece preparado para continuar su movimiento al alza.
FEatured Image from Shutterstock
Charts from TradingView.com
Price tags: xbtusd, btcusd, btcusdt
BTC Just Printed a Textbook Reversal Signal After Surging to $11,800